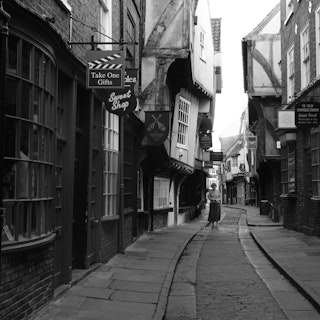 THE CITY
THE CITY

Located in York's "Cultural Quarter",
THE YORK APARTMENT IS IN A QUIET RESIDENTIAL STREET YET CONVENIENTLY ONLY 10-15 MINUTES WALK FROM ALL BEST THAT YORK HAS TO OFFER.
A STROLL THROUGH MUSEUM GARDENS PAST MEDIEVAL AND ROMAN CITY WALLS OR ALONG THE RIVERSIDE "DAME JUDY DENCH WALK" WILL TAKE YOU TO THE PEDESTRIANISED HEART OF THE CITY WITH IT'S STAGGERING CHOICE OF PLACES TO EAT OUT AND ALL of YORK'S HISTORIC AND CULTURAL ATTRACTIONS.
OUR CURRENT FAVOURITES ARE THE CITY ART GALLERY WHICH NOW HOUSES THE MOST IMPORTANT COLLECTION OF CONTEMPORARY CERAMICS IN THE COUNTRY AND PARTISAN CAFÉ/RESTAURANT in MIckelgate.
THE CASTLE MUSEUM FEATURES A RECONSTRUCTED VICTORIAN STREET SCENE including DAVID'S GREAT GRANDFATHER'S SADDLERY AND THE RAILWAY MUSEUM (FREE) IS A SURPRISING DELIGHT EVEN TO THOSE WHO THOUGHT THEY HAD NO INTEREST IN TRAINS!
within 10 minutes walk :

The Minster – largest expanse of medieval stained glass in the world.

York Art Gallery – After a 2 million pound overhaul it now houses the best collection of contemporary ceramics in the country. Outstanding.

Yorkshire Museum and Gardens – collection of Archeology,Biology and Geology.

Castle Museum – social history. Reconstructed Victorian street scene.

Fairfax House – finest Georgian townhouse in England.

The Treasurers House N.T. – elegant town house dating from medieval times.

Clifford's Tower – remains of York's Norman Castle.

The Shambles – Europe's best-preserved Medieval street.

National Railway Museum – extraordinary, even if you have no interest in trains.

The Theatre Royal.
York Picturehouse cinema.
Betty's famous tearooms.
City Walls – ¾ preserved, most of which you can walk.
Beautiful river-side walks.
*

York Car Boot – most Saturdays from April till October.
One of the biggest in the country and more like an antique/flea market than most. www.yorkcarboot.com for dates.

Second-hand and Antiquarian Books – several good shops in Fossgate/Walmgate and Ken Spelman in Mickelgate.
*

Restaurants, pubs and bars too numerous to mention.
*
York Station with coach stops for excursions to Whitby, Castle Howard, Fountains Abbey and the coast is 8 minutes walk away.
Cycle hire at 'Cycle Heaven' is also at York Station.